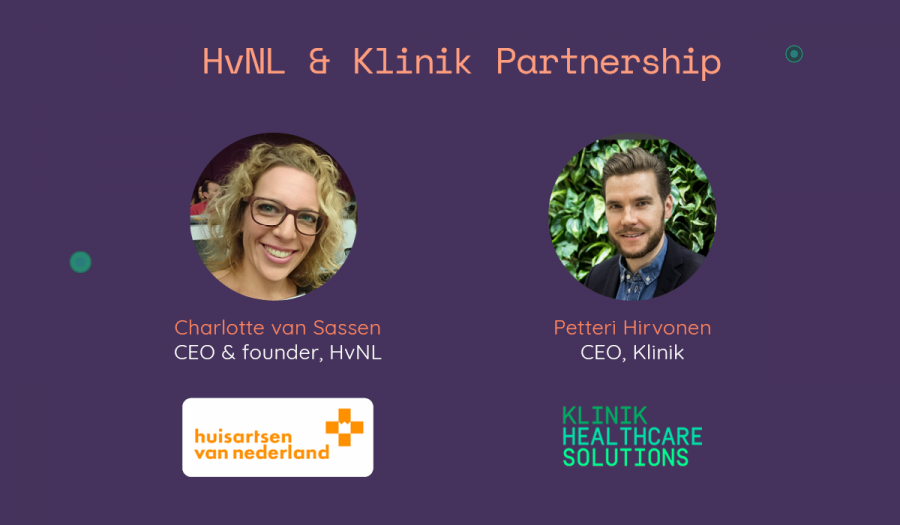 Partnership between Huisartsen van Nederland (HvNL) and Klinik Healthcare Solutions to increase capacity, cut costs and enhance patient experience for GPs across the Netherlands.
Dutch GPs can better face growing demand and provide a better patient experience through a new partnership between a GP-led solution provider and Europe's rising patient flow and online triage management specialists.
Huisartsen van Nederland (HvNL) and Finland's Klinik Healthcare Solutions are to offer a suite of solutions that will consolidate care services and use AI-infused online triage technology to safely and efficiently redirect patients to the right point of care 24/7, providing more flexibility for patients and staff.
The service will enable practices to potentially grow patient numbers by almost 50% without compromising the quality of care, by redirecting patients to more suitable specialist care providers and unburdening GPs from tasks that could be performed by others.
The move will help the country's GPs meet current demand and workforce challenges. Research by Dutch government agency Nivel identified that less densely populated areas of the Netherlands anticipate a decrease in the number of GPs by 12% by 2023 and 25% by 2028. Meanwhile growth in demand for care and the consecutive cost of care is set to rise by 3.9%, with those aged over 75 years of age forecast to grow by almost a quarter.
HvNL modelling has indicated that Dutch practices using their solutions could grow their patient list size from an average of 2,095 to more than 3,100 - an increase of 48%. Finnish research has shown that Klinik's AI-driven technology can reduce the costs of care by 14%.
HvNL CEO and founder Charlotte van Sassen - herself a practising GP and PhD researcher - is working with Dutch healthcare entrepreneur Paul Witteman to develop the service. "Providing more integrated care is a real issue in the Netherlands, where less than four out of ten GPs are actively collaborating to provide care. We also know that more than half (54%) of Dutch GPs are not using digital health applications," said Charlotte.
"Working with Klinik, HvNL solutions will be able to provide more joined up care for patients, whilst also enabling practices to increase capacity and provide the right level of care when they are under such clear pressure."
The HvNL offer includes the Artshuis service, which will look to gradually centralise primary care provision into a single health centre and use technology to more efficiently provide care. An Artshuis health centre will be able to offer a wide range of services and help solve issues caused by workforce shortages and reduce the need for onward referral to hospitals.
HvNL will also provide a centralised triage service hub in Hulparts, which enables individual GP practices to utilise a single triage service that sees qualified healthcare personnel direct patients to the best form of care for their needs, which will aid system-wide collaboration and help reduce the need for GP appointments.
The services are supported by Klinik technology, the online triage and patient flow management solution that is used by over 35% of the population in its native Finland, and serves more than 1m patients and over 100 practices in the UK.
Practices are using Klinik - which is rated as excellent by more than 92% of patients - to introduce a uniform triage process that provides consistent information on patient needs, and supports more optimised patient flow. HvNL is also able to sell the Klinik system directly into Dutch GP practices.
Klinik's CEO Petteri Hirvonen shared his excitement about the partnership. "Europe's GPs are at the frontline of demand for care that is growing at exponential rates. Through our partnership with HvNL, we will provide the digital health solution that can give primary care professionals the toolkit they need to ensure the sustainable provision of high quality care. HvNL is a perfect partner for us because of its vast expertise, its insight into healthcare and its delivery processes, which makes primary care more effective for patients and professionals."
The partnership will be piloting its services in two practices in the Netherlands in the coming months, before launching to the wider Dutch market.
About Klinik Healthcare Solutions
Klinik Healthcare Solutions is a healthcare technology company delivering AI supported solutions for intelligent patient-flow management for primary care providers, enabling healthcare professionals to focus on patient care. Klinik's patient flow management solution has a very user friendly interface with standardised workflows linked to a practice interface that helps to split the work between relevant resources. Its clinically-proven algorithms can identify the primary health issue, recognise its urgency and provide differential diagnoses. The system's high quality patient history taking allows for an efficient decision making process whether to make an appointment or redirect a patient to the right point of care.
About HvNL
At Huisartsen van Nederland (HvNL), we are working on smart solutions to ensure that everyone in the Netherlands continues to receive good GP care in times of increasing demand for care and declining GP capacity. HvNL's 'Artshuis' (Doctors' House) is a formula of GP practices where patient capacity can increase by 50%, while more time is devoted to the patient and the quality of care improves. This can be achieved by using a more efficient division of tasks between the healthcare personnel in the GP's practice, centralised management and digital innovation using AI-based triage software in combination with a central triage centre. In addition, under the name 'Hulparts', we offer all (facility) services as separate modules, including the triage software with the triage centre, for independent GP practices. The software is safe and smart, can be linked to the GP Information System (HIS) and is self-learning and time-saving. Patients are helped faster and more efficiently by the right healthcare provider. Doctors and other healthcare personnel have more time for the patient, which reduces their workload and improves the quality of care.
Rob Benson, Elemental on behalf of Klinik UK
07815098560
robert.b@weareelemental.uk