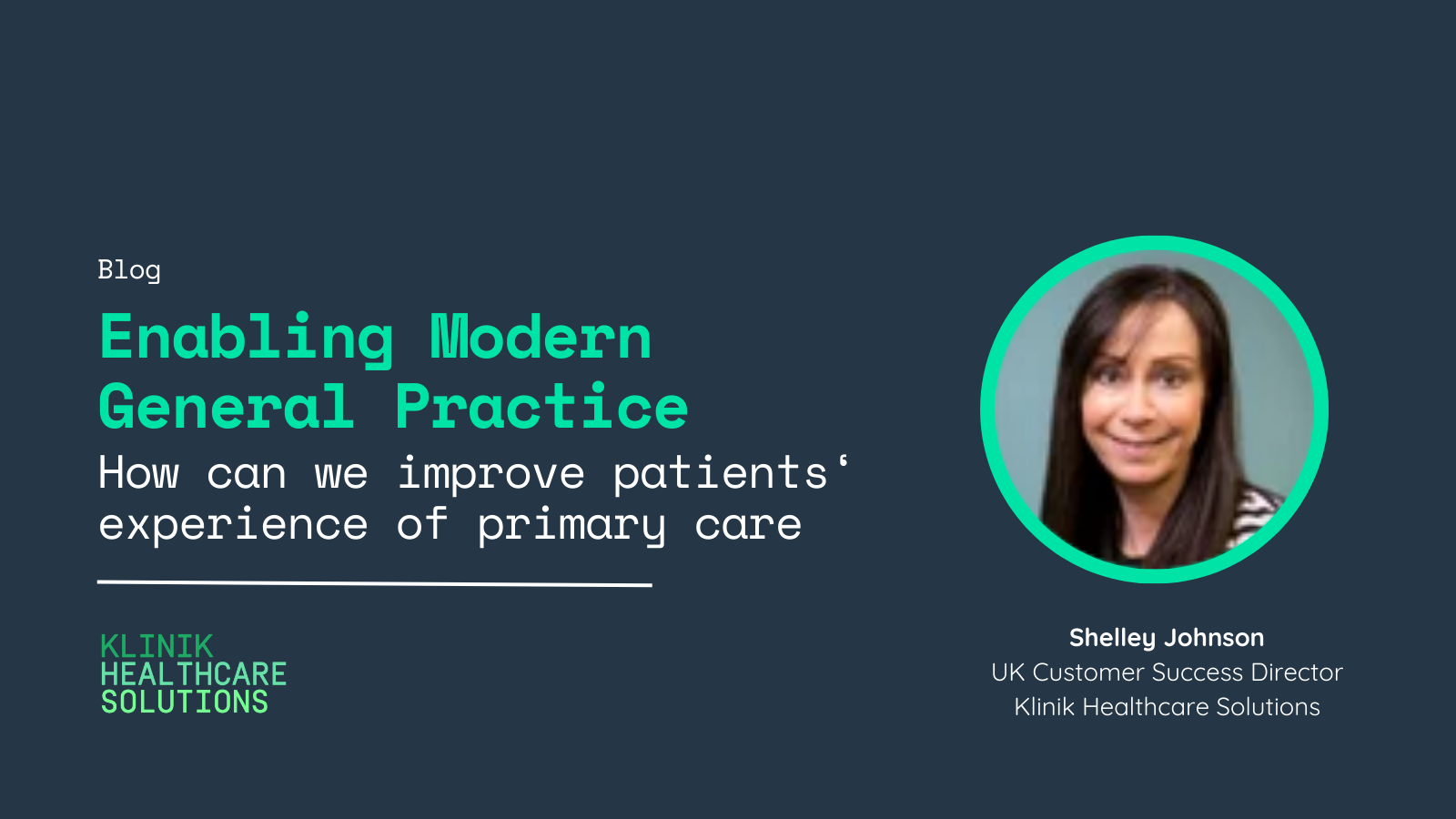 Klinik's UK Customer Success Director, Shelley Johnson, examines how the patient experience of primary care can be improved by supporting practices to make changes to their process and policies, and how engagement with patients can ensure satisfaction and uptake of services. 
Anyone who has attempted to book an appointment at their GP surgery over the last few years will be familiar with the "8am rush".
Patients phone a local General Practitioner (GP) surgery when the lines open at 8am, and endure a lengthy wait to reach a receptionist, only to discover there are no appointments for weeks. Most are told to call back later when the phone lines next open, at midday. 
According to NHS England, over 100 patients call an average-size practice in the first hour after 8am on a Monday, while one in five patients report difficulties in contacting their local GP practice.
Other patients might attempt a walk-in visit and are turned away with the same request to return "later".  Those who seek to secure an appointment via an email to a generic inbox, or an antiquated digital front-door, are often incorrectly triaged or wait weeks for an appointment.
Ultimately, the first come first serve approach can compromise patient care if sick patients do not receive timely care.
What can we do to ensure equitable access to primary care?
At the core of the problem is that GP surgeries are facing an increase in workload and fewer resources, primarily seen in the form of a shortage of full-time, fully qualified GPs to manage patients. 
Many of the appointments that GPs do take on are unnecessary, and could be dealt with by other staff members under the additional roles reimbursement scheme (ARRS), or dealt with via phone or other services.
Unfortunately, poor data collection and inconsistent triage means these avenues are not always pursued, increasing the pressure on clinicians and consuming valuable time that could be better allocated to other tasks. 
The UK's 2023/24 General Practitioner (GP) Contract recognises an urgent need for change. One of its main priorities is to improve patient satisfaction by addressing the "8am rush" and ensuring swift access to care.
Under the new contract, patients can contact a practice through phone, in person, or online. The contract expects practices to offer assessments, appointments, or referrals without asking patients to "call back another day". Urgent requests should be assessed on the same day and non-urgent appointments scheduled within two weeks to ensure patient safety.
The primary care system is also on track for technological overhaul with digital access to medical records and online appointment booking via the NHS App expected in over 90% of practices expected by March 2024. 
According to NHS England, all analogue phone systems will be switched off by December 2025. Online requests are expected to free up phone lines and distribute the workload more evenly throughout the day, allowing for quicker handling of requests.
Ultimately, streamlined service delivery will free up workforce capacity to focus on clinical tasks.
How do we make better patient experience and access a reality?
Tackling the 8am rush, reducing wait times for appointments, and providing patients confidence in practice telephony, digital interfaces, and triage decisions is essential.
With limited resources available to practices, understanding how we achieve these goals efficiently and in a cost-effective way is critical.
Achieving improved patient access to primary care necessitates a significant overhaul of practice processes with a patient-first approach and there are several components:
Equitable Access
Equitable access is fundamental. Practices need to ensure that it can receive enquiries through various channels – online, over the phone, and in-person – and that the information collected remains consistent across those platforms. 
This uniformity is vital to ensure that enquiries undergo the same triage process, regardless of the initial contact method, and the value of ensuring that every query is triaged by a clinician helps to provide patients confidence in the decision.
"We found that when the patient knows that their request has been triaged by a GP or an advanced nurse practitioner, which are the clinicians that we have to have in triage, they are much more receptive to maybe seeing a first contact practitioner or the clinical pharmacist."
Carolyn Hattersley, Practice Manager, The Adam Practice
Centralised Triage
Practices can optimise appointment capacity by implementing a centralised triage system across sites, improving the  experience of booking an appointment and enabling sites with capacity to take the pressure off teams that are at or over capacity.
For example, if a patient needs timely care and a preferred location is fully booked, a centralised system enables a practice to offer appointments with team members at nearby partner surgeries. 
Practices need to be strategic
Technology can significantly improve the efficiency of triage processes, resulting in a better patient experience overall.
However, it must be deployed strategically. Failing to be strategic in primary care transformation can be detrimental to the patient experience. Introducing a digital solution with no plan for how it supports an improved process can leave patients (and staff) frustrated and angry when systems end up making it harder, rather than easier to book appointments, or they feel like no action is taken as a result of their query. 
Before implementing solutions, practices should take the time to map out what an ideal triage process looks like as well as the resources they have available to make it happen, and then work closely with a supplier who can customise their system to reflect and maximise those resources. 
Should your practice make changes to its processes to maximise patient experience?
The answer to this question depends on how effectively your practice is coping with demand for appointments. If your practice is facing financial pressures, then it can be difficult to imagine committing resource to improvements,
However, in many cases, inaction may turn out to be more costly. By assessing the risk of not being able to offer patients appointments, or provide a same day appointment to someone who needs one urgently, you may find that transformation is required.
When it comes to costs, an effective triage approach supported by the right system can end up releasing cost-savings for the practice while reducing pressure on staff and improving patient experience.
Bring patients along on the journey
Should you choose to undertake a transformation, then early patient engagement with digital transformation is essential.
Practices should seek input from patients and collaborate with patient groups to ensure everyone is on the same page and patients' needs are addressed. Practices should listen and learn from that feedback, and make sure that implementation addresses all reasonable requirements.
It is vital that surgeries convey the expected outcomes to patients as well as the rationale behind the changes so that patients understand and support the transformation. Practices should highlight the role of the clinician in triaging enquiries so that patients trust that an enquiry will have clinical input and can be relied on.
At Klinik, our AI-assisted triage systems help practices to provide equitable triage and patient streamlining. We work with you to develop and implement an equitable triage process regardless of which channel a patient makes an enquiry through.