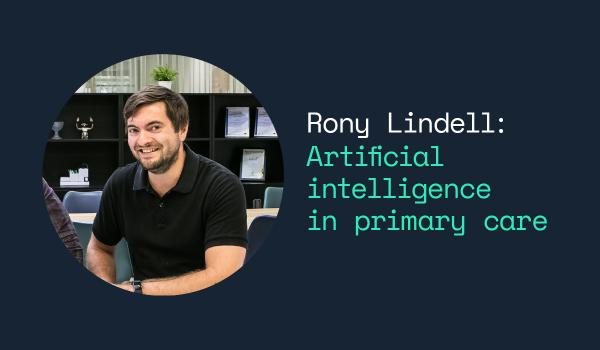 Artificial intelligence (AI) is gathering ground in primary care in the UK. It can be a crucial tool for primary care as it looks to manage growing demand with limited resources.
It is already widely used in the healthcare industry; for diagnostics, triage and analysis, for example. The increasing digitisation of primary care means that its use will become ever more widespread.
For it to be useful, and as the Royal College of General Practitioners notes, AI needs to help the clinical team to provide the best possible care.
And speaking as a practising GP, I know that AI can bring value by supporting condition recognition and making organisational processes more efficient. As the Academic Health Science Network AI Initiative found, unlocking the value in data is also vital.
This is our focus at Klinik, building on over five years' experience supporting general practice with AI solutions. We help hundreds of frontline GPs with accurate diagnostic information, and refined triage processes.
In addition, boosted by the increasing digitisation of primary care because of the COVID-19 pandemic, we are increasingly unlocking huge value in the data from the healthcare interactions derived from more than 400 practices serving over 1.5m patients.
How medically-validated AI works
Developed by GPs who are also clinical engineers, our medically-validated AI automatically recognises over 1000 symptoms and conditions, including mental health and complex paediatric conditions. It can identify a primary health issue, recognise its urgency, and direct the patient to the right point of care in a timely, cost-effective way.
It also provides important background information for healthcare professionals and enables immediate, proactive interaction with the patient.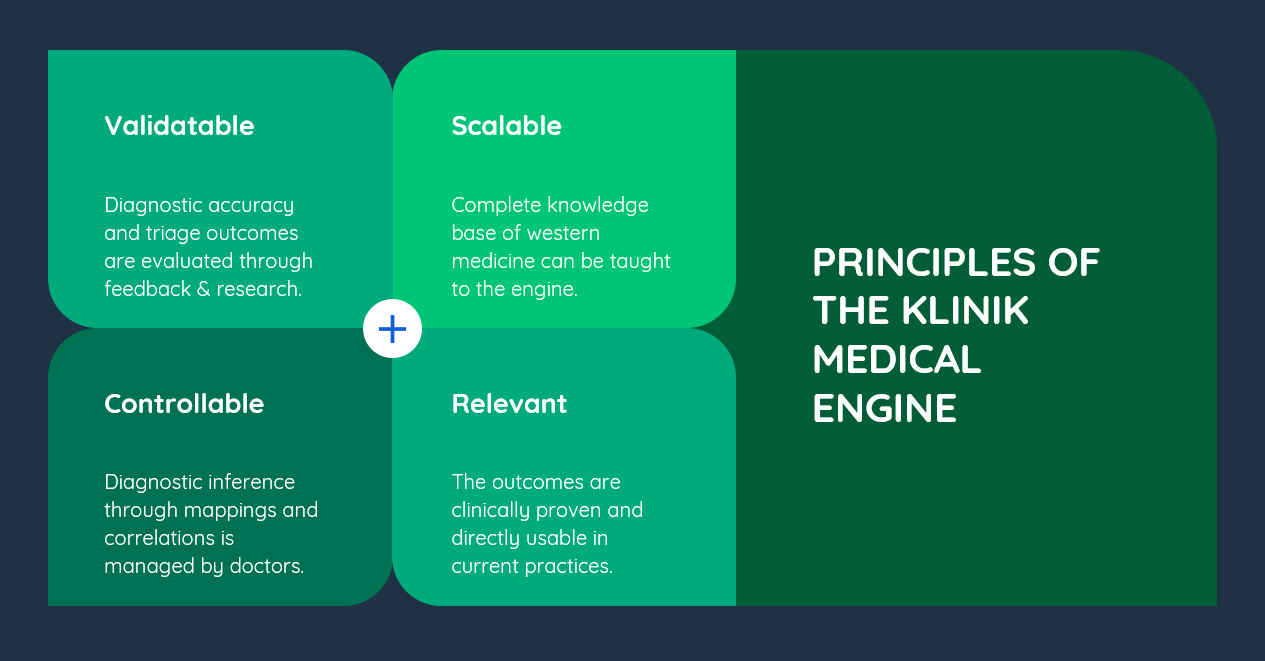 We have built our AI on a database that uses current evidence-based medical knowledge and local condition prevalence data. This is updated through our clinical oversight, and the always-on feedback loop from our clinician end users.
To ensure the highest standards of clinical governance, we supplement this activity with case reviews and statistical analysis. Machine learning routines and pattern searching routines are being investigated, so we can identify any areas for improvement for our technology.
We combine this with our diagnostic engine and triage solution, which work together to optimise communication and care processes.
The triage solution uses an attractive symptom checker interface and simple language to capture the relevant information from the patient. Our AI dynamically updates the form as patients input their symptoms, to provide more data for the process and to identify what matters most to patients.
The diagnostic engine uses a Bayesian probability model from this input to accurately identify the probability and urgency of each condition. It can then provide a differential diagnosis – a list of possible conditions or diseases that could be causing the symptoms entered – for the doctor to create a working diagnosis.
This then informs where we point the patient, such as acute care, self-care, or for follow up by the surgery, saving time for the doctor, the practice and the patient.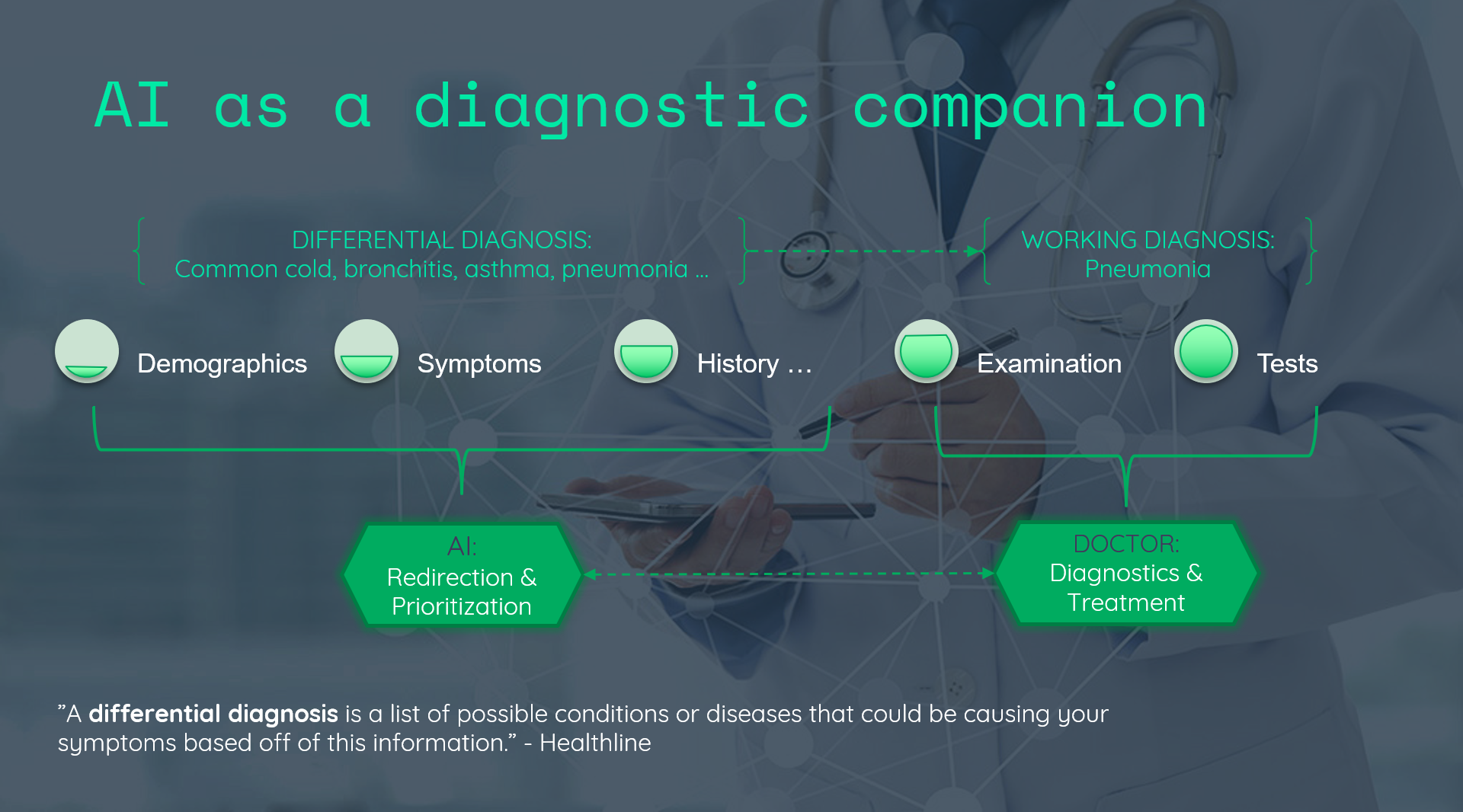 What are the benefits?
Gathering information through a single source, with the same system and triage interface, enables a standardised way to handle the demand, which has time-saving benefits across the practice.
People can access online triage from home, care home staff can use it, or receptionists can use it in the office. This helps our customers support NHS England's multi-channel Total Triage approach, which sees multiple channels used for patient access.
We also support the Whole System Triage approach. This concept sees one portal redirect people to a whole repertoire of care services. AI is a core part of the service, so that neither people nor professionals have to spend time on inappropriate interactions.
Safety is of paramount importance. Our data shows that over 99% of enquiries are correctly redirected to acute (same day) care. The AI and clinician are in regular agreement on the triage option, and suggested referrals to acute care are lower than with conventional triaging.
In addition, we provide dynamic epidemiologic data and deep insight into the healthcare needs and usage within a particular region. It helps make data-driven healthcare a reality.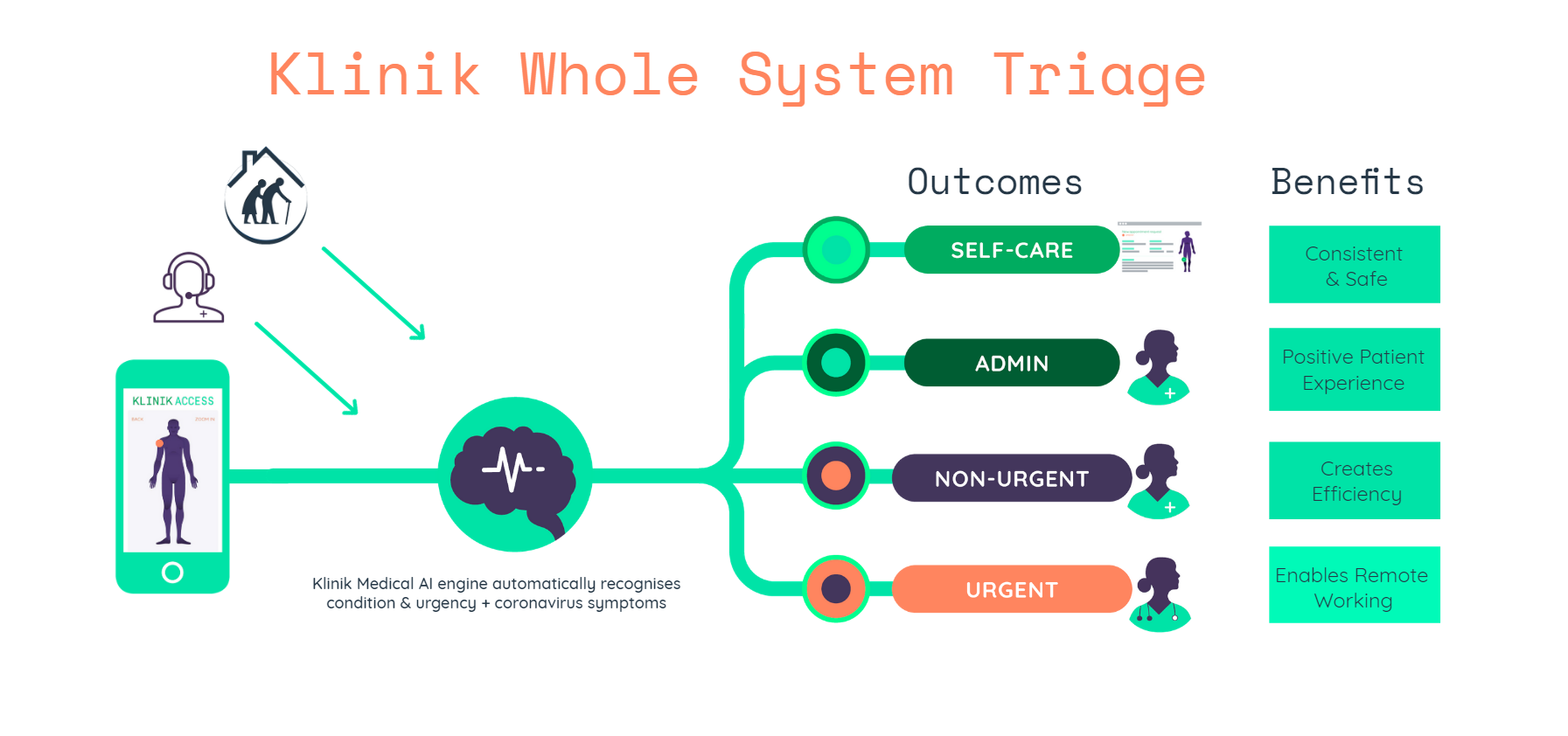 How is it helping general practice?
Practices benefit from more efficient patient flow management. They can reduce the stress of providing healthcare by not having to go into the detail of every single enquiry, and can increase the time they can spend on patient care as they have all the information they need for a positive consultation.
Dynamic work allocation removes unnecessary tasks and processes. Clinical decisions are made by the clinician, and can be done from any location.
We also respond to the needs of practices to help them face new situations, so that they can use our AI-driven technology to continue to deliver high-quality care.
For example, with the coronavirus pandemic, we provided all our customers with a new module which enabled them to assess the risk of coronavirus. This meant that they could screen patients directly to help decide who could be seen for a face to face assessment, or who needed a test or other form of care.
We also created a separate coronavirus pathway, which assessed the risk level based on symptoms. It would then accurately redirect patients to self-isolation, or the NHS 111 service for further advice on testing and care needs.
Throughout all this, it's important to understand how a doctor thinks, and how technology can help. My background as a bioinformatician has helped me understand the algorithms of the human brain. Working as a GP helps me understand the nature of patient contact. This informs how we approach the use of AI in primary care.
What are the next steps for Klinik and AI?
Research is very important to us. We are looking at how our technology can work within hospital settings in the UK and in Finland. We have an ongoing collaboration with the Institute of Healthcare Engineering, Management and Architecture in Finland's Aalto University, which is examining cost efficiency.
This follows previous work with Aalto University, which saw them use our technology in a study that showed how AI brings 14% savings on average patient treatment costs.
We are also seeing how we can better categorise patients, such as those with musculoskeletal conditions. From this, we will be able to direct them straight to the right care provider more efficiently.
And we are looking at how we can integrate with the patient record, and considering how we can capture data from the consultation and use this within the digital care process.
Our technology will always evolve. The more data we gather, the more we can learn. We are hopeful that we can use AI to better help UK primary care, as it looks to its increasingly digital-first future.
---
Klinik Access is an online consultation & patient flow management software that directs patients to the optimal resource in primary care. The system's unique algorithm interprets the person's symptoms to make a provisional assessment, and estimates the urgency of the care needed. Based on this, the person is automatically referred to the right place for care to begin.