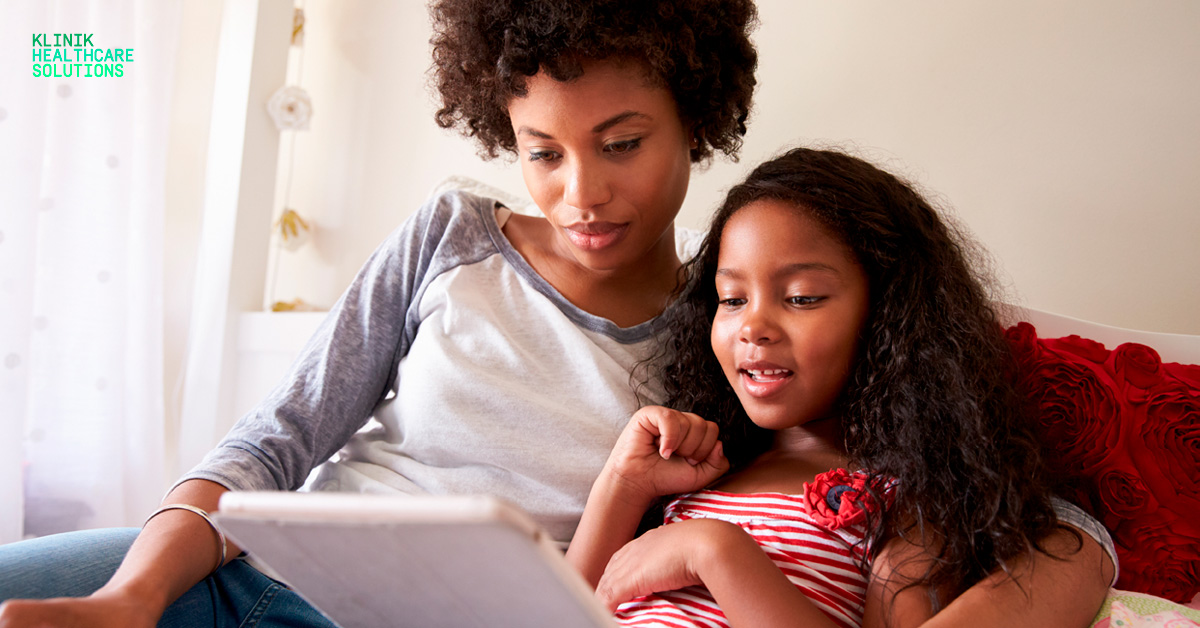 Many GPs ask us: what do patients think about Klinik? Well, we are pleased to say that they seem to like it - a lot.
We get consistently good feedback scores, with 92% of patients rating the system as good or excellent. Patients are getting more confident in using the software, too. One PCN, for example, has seen 70% of enquiries made online using Klinik since they signed up.
So what exactly is it about Klinik that patients enjoy? Put simply, it gives results. After all, people tend to like things that give them what they want - it's just human nature.
It's not just patients it's helping, either; Klinik is also helping doctors better understand their patients and give them what they want from their local GP.
Klinik is helping surgeries across the country to provide simple and convenient access to timely and appropriate care.
Klinik is simple to use
Patients are telling Klinik GPs that the system is easy to use - a 'great service' that saves loads of time.
Our accessible and intuitive symptom cloud makes it easy for a patient to identify what their symptoms are. Key questions collect the vital information that enables the system to direct people to the right response for their needs; this might not always be a GP, which can help practices drastically reduce their wait times.
Under the supervision of a triage professional, Klinik uses AI and patient flow technology to direct enquiries to the right type of care. Once a patient's needs are assessed, they could be directed to not just a member of a GP's admin team, but a practice pharmacist, a first-contact physio or even a local community care provider.
Gone is the age where everyone has to be triaged by the GP before getting the help they really need, relieving pressure on practices and speeding up the care process. As one patient says: "Because you have the opportunity to say what the symptoms are, the person that phones you back has an answer. They know who you need to see and how quickly you need to see them."
Klinik is convenient
Our online triage technology can be used at a time and place that is most convenient to the patient.
Klinik supports access to care 24 hours a day, 7 days a week. Patients don't even have to wait until their surgery opens to be directed to the right care for their needs anymore.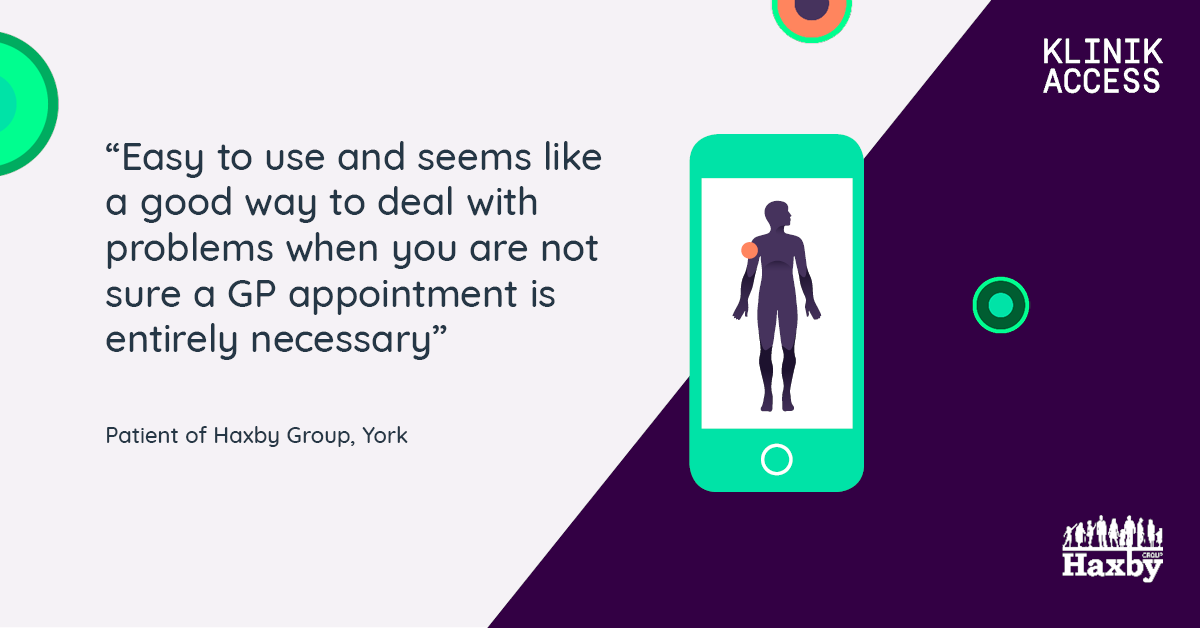 Klinik can be used to triage phone and walk-in enquiries. This helps to ensure a consistent triage experience for patients of all ages, however they choose to access care.
The software also records basic information from each patient, meaning individual's will only have to tell the practice once what their needs are. Moving forward, this will enable surgeries to arrange for the best response to meet those needs even faster than before.
Klinik provides access to timely and appropriate care
Our simple user interface helps to capture the information that GPs need to make the right decision for the patient.
Klinik understands 1,000 symptoms and analyses patient information to prioritise care and indicate urgency. Triage leads can then ensure that patients can get the timely and appropriate care that is right for their needs - all without an individual having to physically attend an appointment at a surgery and wait to be told this.
"Patients have been astounded at the speed of response for their urgent conditions," says Dr Emma Broughton, executive partner at the Priory Medical Group. "Our system enables us to be able to respond within 30 minutes of a submission for minor ailments, using the information gathered by our digital platform."
By redirecting patients and sharing the workload, Klinik also frees up time for GPs and supports other practice staff.
Klinik also reduces the friction felt by reception staff, who often come under pressure to give appointments regardless of clinical need.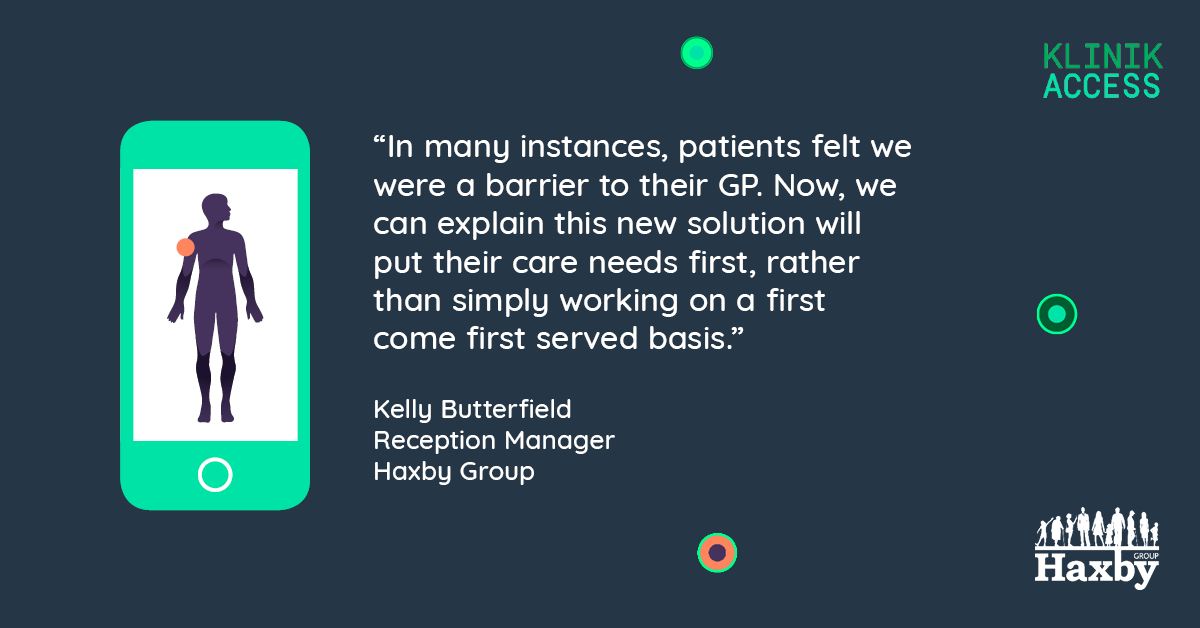 In fact, Klinik practices can provide longer 20 minute appointments with their GP, as their colleagues elsewhere in the health network are seeing those patients who might otherwise have come their way. This can make a huge difference to doctors and patients.
Patients love Klinik because Klinik works for them
Klinik's online triage and patient flow management software enables practices to offer patients simple and convenient access to timely and appropriate care.
That's why patients love Klinik.
Book a demo and see for yourself how Klinik can help your practice give patients what they want.