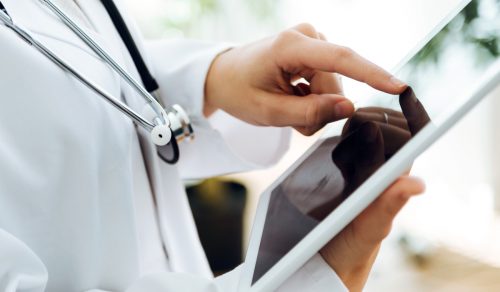 Digital primary care was thrust centre-stage for general practice in 2020, and overall its performance was astounding. Initiatives such as Total Triage shifted the delivery of care online, at scale and at pace. Communication between practices and patients changed almost overnight. We are still digesting what this means as we look to ensure equal access to care.
One clear impact of the digital response to coronavirus was that the volume of work for general practice will continue to increase. Total Triage opened up new routes to the GP, and practices had to adapt as a result.
Recruitment for GPs and other additional roles will help meet this demand. What will also help is the successful implementation of digital-first primary care well in advance of the 2023/24 deadline set out in the digital-first online consultation framework.
With so much change ahead, we thought it useful to explore some of the top trends in digitally-driven GP service delivery for 2021. We also look at the role artificial intelligence (AI) can play in improving patient experience and the delivery of care.
Trend One: AI will aid patient flow
As demand increases, clinical and non-clinical staff at GP surgeries will need the tools to help them manage this demand.
AI-driven online triage is one such tool, as was identified from feedback from primary care network clinical directors. They identified that online triage 'has been especially effective in boosting capacity and the information gathered from patients through online triage has tended to be more efficient and of good quality'. It continued: 'Where the software incorporated artificial intelligence, clinical directors saw even more time saved for staff to focus on where they can add most value for patients.'
AI triage gives GPs the system they need to be able to better manage patient flow. It captures patient information in a consistent way, and analyses this to provide recommendations on the urgency and priority of each case.
Practice teams can share the workload, by redirecting people to the right point of care. Unnecessary appointments can be a thing of the past with intelligent workflow. Medication queries can be redirected to the pharmacist, or back problems to the physio, without any GP involvement.
Better patient flow management through AI triage can also help shift demand to additional roles created under the Additional Roles Recruitment Scheme. Physios, pharmacists, and social prescribers can answer patient enquiries without the need for GP involvement. Technology can signpost people to the right type of care.
This will also mean changes in how the workforce can adapt to increasing demand. Some practices are looking to combine nurse-led triage with AI support to manage this increased volume. It is an approach championed in our native Finland, where similar issues over GP recruitment exist. In the UK, nurse-led triage is already being adopted by the Homewell Practice in the UK.
Trend Two: Online triage can mitigate the impact of Covid-19 on people with long-term conditions
Covid-19 was a singular focus for healthcare in 2020, and as a result 'attention was diverted away from primary care's key roles in early detection of disease and management of long term conditions', according to noted primary care academics.
The authors noted that action is needed to ensure all patients can access primary care. Digital triage can help by managing demand online, freeing up phone-based or face-to-face access channels. It can support the 'talk before you walk' ambition of 111 providers, who have been charged with fielding the huge demand being placed on phone-based access routes.
Primary care also needs to be protected from work that would normally have been done in secondary care, if it is to clear the backlog created by the coronavirus. It will take a collaborative effort to address this, leveraging the skills of the wider health and care ecosystem, and signpost people to the right point of care so that patients are seen by the right resource at the right time.
As the Nuffield Trust also identified, there is little research to date on the impact of remote general practice on clinical outcomes and missed and delayed diagnoses. It is something that can now, in part, be addressed.
Did the patient get the right type of care, and were they seen by the right person? We can now access the data to answer this vital question, with the help of intelligent patient flow solutions that record outcomes on conditions and consultation type. It will help inform the future design of primary healthcare provision at a practice level, and also across the wider region.
Patients with long-term conditions often have more than one issue to discuss. Smarter workflow tools can free up GP time and redirect significant volumes of activity. Doctors can offer affected patients longer appointments and free themselves from the constraints of the 10-minute consultation.
Trend Three: Care home support will become a focus
The pandemic highlighted many systemic faults, and one of the most visible was the challenges for GP service delivery to care homes. Care home visiting must be one of the least efficient ways of delivering care.
With cloud-based AI triage systems, care home staff can use an online tool to send urgent requests for GP support. These can then be properly analysed and understood before a decision is made on how best to respond.
Further support could be offered through better data-sharing. The NHS has highlighted the importance of remote monitoring in care homes. Vital signs data should be available in the GP surgery so that clinical assessment can be carried out before a visit.
The fundamental need is access to actionable information. Collaboration and connectivity can drive improvements in the relationship between GPs and care homes, as we explored in our examination of system-level patient flow and general practice. Technology needs to support this by capturing, analysing and presenting the information in the right way and at the right time.
Trend Four: Online triage hubs will manage regional demand
GPs are moving to more place-based care, through primary care networks and their own collaboration initiatives.
This means that resources can be leveraged to serve the many, not the few. Online triage hubs (or e-hubs as NHS England described them) will provide the backbone for regionally-driven care by managing demand across multiple sites.
These are already up and running for GPs such as the Haxby Group, which has been singled out by the RCGP for its use of technology in supporting remote triage across multiple sites.
It is just one example of how online triage will be at the heart of collaborative and connected primary care; the year ahead is likely to see many more examples.
In summary
GPs have had a torrid 2020, as have we all. However the new year promises much, with technology in place that will transform how primary care manages demand. The benefits will be felt by patients, who get the right type of care, and professionals, who will see the right type of patient.
The shock of Covid-19 has changed general practice for good. What happens over the next 12 months will show how, once again, GPs can adapt to change in a positive, patient-centred way, using technology that enhances the care they provide.
Contact us for a demo to see if we can help you prepare for the fresh challenges ahead.
---
Klinik Access is an online consultation & patient flow management software that directs patients to the optimal resource in primary care. The system's unique algorithm interprets the person's symptoms to make a provisional assessment, and estimates the urgency of the care needed. Based on this, the person is automatically referred to the right place for care to begin.