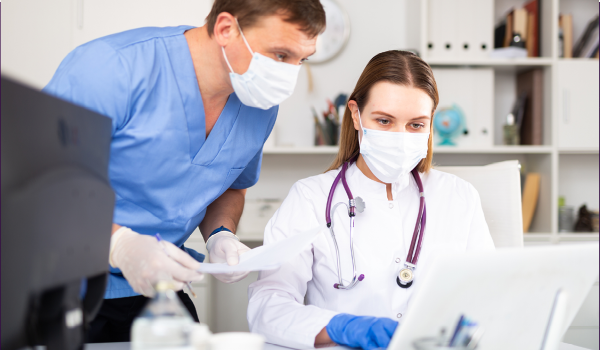 Covid-19 has wreaked havoc on healthcare systems across the globe. UK general practice has survived, in part due to the widespread adoption of technology at breakneck speed.
The prospect of overwhelming demand due to the coronavirus saw NHS England introduce Total Triage; guidance that urged GPs to use online and phone consultations to triage patients, and to undertake all care that could be done remotely through remote means.
Herculean efforts from practice managers, primary care network leads, GPs and suppliers in those early days saw GPs deliver an unprecedented example of rapid channel shift.
As Professor Martin Marshall, chair of the Royal College of General Practitioners said, it took GPs "two and bit weeks to achieve more than we have achieved in 20 years" in technology adoption.
The impact was stark. In the 12 months before Covid-19, more than 80% of appointments were face to face. In April this was 7%, according to the BBC. In May, more than 90% of patient enquiries and requests were being dealt with remotely.
Total Triage appeared a success. It had helped manage demand, and seemingly accelerated the move to digital-first primary care that was promised in the NHS Long Term Plan. Patients could access online and video consultations well in advance of the plan's 2021 deadline.
The trouble with Total Triage
But Total Triage created problems for general practice.
For some, it drastically ramped up levels of triage, and the unfiltered demands of local communities. Prior to the pandemic, Professor Marshall noted, not every patient was triaged before an appointment. Now all enquiries were being triaged, often by a GP. 'It's the sheer volume of triage calls and the sitting in front of a computer screen for 11 hours solid,' observed Dr Dylan Parry on Twitter.
And it is feared Total Triage could make GP workload worse; Pulse editor Jaimie Kaffash noted: "Far from reducing patient demand, remote consultations will exacerbate it by making GP appointments more convenient for the patient."
Total Triage has also raised the issue common to all moves to 'digital by default'. What of those on the other side of the digital divide, such as those who are not comfortable with computers? Will it exacerbate the inverse care law, where those with least need of health care get the most access?
According to feedback from the frontline, these fears may be unfounded.
The successes of online triage
Practices have reported that online triage has helped give GPs more time to care, enabling them to prioritise their time for those most in need. The information provided online by patients 'radically reshapes the flow of the subsequent consultation, allowing for much more time to be spent on shared decision making and collaborative problem solving,' said Dr Peter Devlin, GP partner at Benfield Valley Health Hub.
Patient access has improved as the volume of phone enquiries has fallen and waiting times have dropped, helping those without the use of modern technology.
Meanwhile PCN clinical directors at NHS Confederation's July meeting said that online triage has been especially effective in boosting capacity. Where the software incorporated artificial intelligence, clinical directors saw even more time saved for staff to focus on where they can add most value for patients.
Evidence is everything
The evidence on the ground to support either of these claims - that total triage increases workload and increases digital exclusion - is not there. That's not to say neither claims are true.
Rather, it is to reiterate the views of the Nuffield Trust in its research into the impact of Covid-19 on the use of digital technology in the NHS. This states: "It is essential that we understand – through robust evaluation and research – what the impact of the rapid shift towards digital technology has been on clinical practice, patients' access to and quality of care, and the experiences of patients and staff."
Used properly, online triage technology can improve patient access, staff satisfaction, and clinical care. We know, because we have been doing it for almost six years in primary care settings across Europe. But we are doctors as well as technologists. Establishing the evidence base is essential if we are to build on the progress made through this pandemic.
Klinik Access is an online consultation & patient flow management software that directs patients to the optimal resource in primary care. The system's unique algorithm interprets the person's symptoms to make a provisional assessment, and estimates the urgency of the care needed. Based on this, the person is automatically referred to the right place for care to begin.