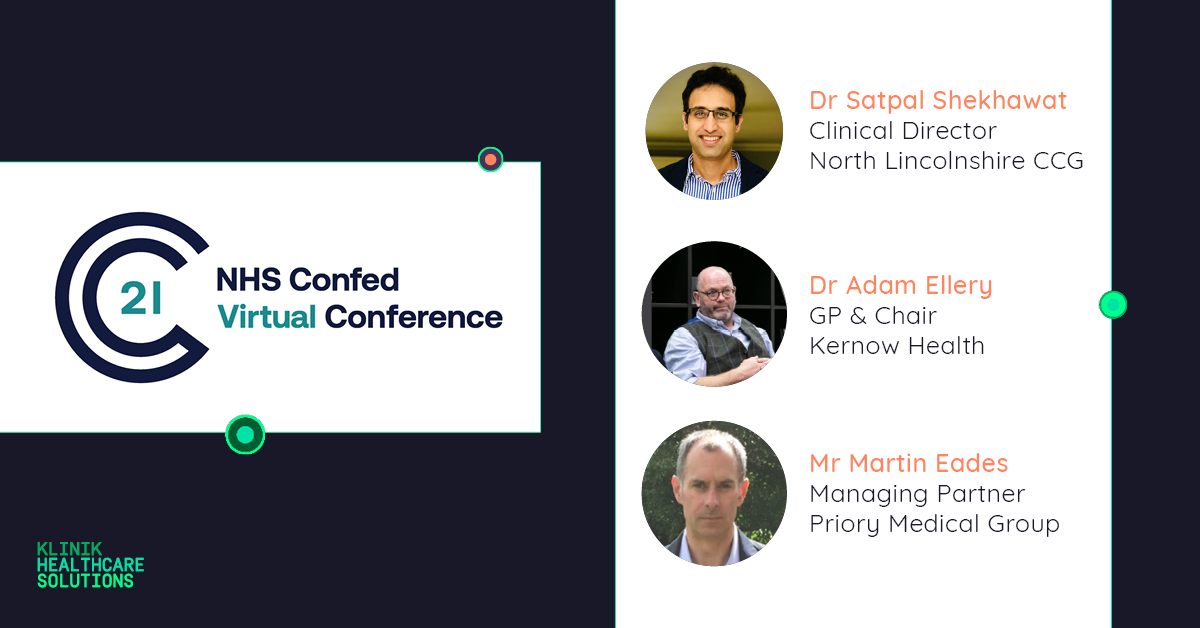 How intuitive AI triage and patient flow software is helping GPs meet demand.
The problem of unmet demand
Industry leaders came together at the NHS Confed conference to discuss one of the hottest topics in general practice, how to manage unmet demand.
Primary care network (PCN) and clinical commissioning group (CCG) leads showcased how they were using a combination of technology and process change to address the issue.
Klinik UK Director Ben Wood, opened the discussion by showing how traditional patient flow models drain GP surgery resources. "Practice staff have no insights into urgency, and back end systems do not allow for ordering."
AI triage and patient flow management software is helping resolve this for 120 UK practices. The total triage solution prioritises and efficiently directs patients to the most appropriate care pathway.
As a result, Klinik is helping practices to optimise their staff and resources, reduce unnecessary GP appointments and enhance patient satisfaction.
Priory Medical Group using AI triage technology to better manage demand
Priory Medical Group revealed how AI triage was central to its demand transformation programme. PCN managing partner, Martin Eades said the network recognised that this would underpin their mission to re-engineer how they recognised, and dealt with true patient demand.
"Using Klinik we got real data that showed us exactly when and where patients were contacting us. This was the golden bullet we needed to shape our clinical workforce, premises and strategies."
Since implementing Klinik, the Priory Care Group has started 'heat-mapping' demand and shaping their workforce accordingly. "We're really pleased with the results so far," said Martin, and "clinicians are much happier".
The impact has been impressive. Waiting time for routine appointments has reduced from 14-21 days to 5-7. Telephone enquiries have dropped from 99% to 30% of contacts. The group has handled 8,000 more patient contacts compared to the same period last year, with no more clinical resources. Patient satisfaction, with the new model, is 87%.
Dr Satpal Shekhawat of North Lincolnshire CCG on working with Klinik to realise its vision
North Lincolnshire CCG is in phase one of their NHS Digital-funded pilot scheme with Klinik. The CCG has initiated a program across two PCNs serving approximately 100,000 patients.
The pilot will explore how AI triage can be used to reduce the workload for GPs, and put patients in touch with the best possible type of care.
"We want patients to get to the right person at the right time," said Satpal. To facilitate this, "Klinik gathers information in the best possible way."
The CCG is using the consistent patient information entered in Klinik to signpost patients to the most appropriate healthcare professional. Klinik's AI triage and patient flow management solution can then help point patients to district nurses, palliative care providers and out-of-hours teams. This will help share the workload and create a more intelligent healthcare network.
AI can help GPs manage the 'tsunami' of demand in Cornwall, Dr Adam Ellery explained
Such flexibility is important. The number of patients covered by Kernow CIC in Cornwall doubles during the holiday season. According to Adam, "this tsunami [of demand] is going to challenge every practice."
Adam's Cornish practice is using AI triage to help it to meet inflated demand by enhancing its productivity. "Time efficiency has been essential for us, as a small practice, to cope with such a massive demand," he said.
Now, care navigators can redirect patients to the most appropriate care pathway. This has enabled the practice to flex their staff and resources, which Adam said has been 'key'.
"Our staff have thoroughly enjoyed using Klinik," he said. "Now lots of my GP colleagues are coming to see how AI can help them deal with their workloads."
Indeed, optimising demand management is becoming ever more crucial, especially with hospitals also facing significant workloads. "We need to look very quickly into a system which is safe, and has intuitive AI at its centre," urged Adam.
Managing demand for in-hours and out-of-hours care
The speakers were unanimous that there should be a standardised, integrated care offer for core and out-of-hours services. "It's my ambition to break down barriers between hours and out-of-hours using AI, so that workload is distributed appropriately across the weekend," Adam said.
Martin highlighted how AI triage is helping the Priory Group achieve this. "Typically, after a bank holiday we would see 350 urgent contacts in our system. Last bank holiday, with Klinik there were only 50." Such demand management success has drastically improved staff morale.
"I think we are leaning towards a future where AI-based triage can help with both in-hours care, as well as out of hours prioritisation," said Klinik medical advisor Dr Nick Hayward.
He concluded, "AI triage provides more opportunities, not less, for patients to interact with their healthcare services. It helps general practice to more appropriately manage demand."
See how AI technology can help tackle unmet demand in your practices and arrange a short demo today.