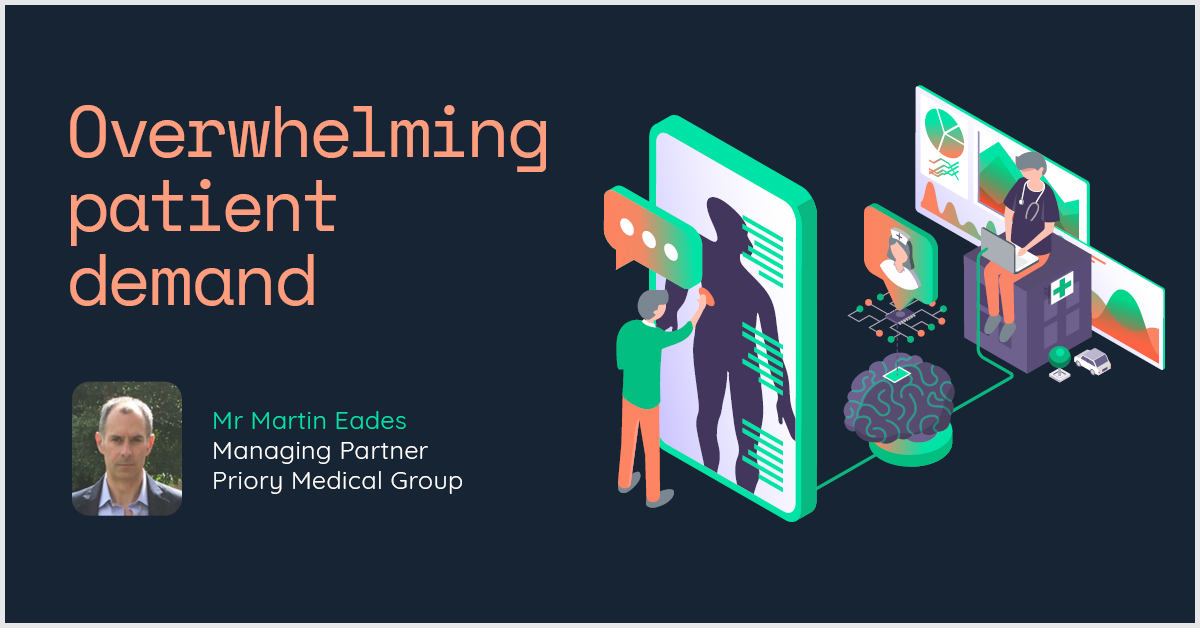 Martin Eades is managing partner at Priory Medical Group primary care network, which serves almost 60,000 people across Yorkshire. The group has developed numerous award-winning patient initiatives, and is using Klinik software to power its prioryCARE online consultation system. A keen advocate of organisational development and process improvement, Martin seeks to identify and align individual strengths with service redesign to achieve optimal outcomes.
The past few weeks have seen an explosion on the internet around e-consultations and "overwhelming demand" for GP services. Does a piece of software really "create" demand, or does it simply reveal the demand that was there all along, masked by traditional models of access to GP services?
One might argue that unless you know the true demand generated by any defined patient group, how can you appropriately staff your practice or PCN with the relevant number of clinicians and the skill mix required? Even more fundamentally, how can you meet the terms of your NHS GMS or PMS Contract?
Given the long-established model of General Practice in England, equipped with electronic medical records systems, we are perhaps better equipped than any other health service in the world to be able to predict and plan for patient demand. Add in the ever-increasing numbers of third party analytical tools out there, transforming data into useful management information, we should be better informed now than at any previous time in the history of the NHS.
Overwhelming demand claims require scrutiny
A significant proportion of patient demand is predictable, and when equipped with historical data spanning potentially decades, the ability to forecast trends is within the reach of any Practice Manager or IT Manager. Coupled with widely available Public Health data down to ward level across England, we really should know our patients' current and future health needs.
The claims hitting the healthcare headlines of late, that overwhelming demand is the result of e-consultations being forced upon GP practice requires scrutiny, and perhaps highlights a more fundamental underlying issue – prevalent models of patient access that artificially manipulate or mask true patient demand.
Telephone based access models are limited either by the number of phone lines a practice chooses to install, the number of people available to answer those calls, and the size of the clinical team and its skill mix proportionate to patient need.
Will raging at patients create a wave of sympathy or change patient behaviours? Unlikely, given the national media stories of practices closing their doors to patients during the pandemic, however contrary to the statistics that may be.
Working with patients and technology can provide the answer
Patient Education lies at the heart of managing demand, leading by the hand and showing them tangible evidence that a different way is a better way.
We have all become accustomed to online banking and shopping, or using the self-checkout at the supermarket. The tills are still there so the old methods are still accessible. They have not been abandoned as that would disadvantage some of their customers. So why have banks and supermarkets succeeded where General Practice has not?
An up-front investment in time understanding and educating our patients is part of the answer. If we actually invested time and resources, beyond a YouTube video, to show patients that they can get the outcomes they need quicker and easier by using new models of digital access, they will continue to use them thereafter – it's a win-win.
Since changing to a model encompassing digital access 6 months ago with our prioryCARE system, we have seen patient satisfaction figures of jump to 87% and above from approximately 24% a year before. Patient access that was 99% telephone driven is now just 30%. The "always on" aspect so heavily criticised of late is not the issue. The system may be available 24/7, but our patients know they will receive contact from the practice appropriate to their need within our opening hours.
Patients are much more willing to engage with new technology and methods of access when their experience is driven by ease of use, coupled with contact from their GP Practice that is both appropriate to the urgency and nature of their issue. It is a massive leap from spending hours, if not days, ringing a practice only to be told "ring back tomorrow".
A bright but challenging future awaits
The stars are aligning for new, streamlined, efficient and effective services. Support from the PCN Additional Roles budget brings a cost effective diversification to General Practice, at the same time releasing senior clinician time from patient-facing activities, to enabling them to support and mentor the allied health professionals now commonplace in most practices.
The recent BMA poll of GPs and its findings cannot and should not be ignored. Whatever the underlying causes, GP Practices are feeling extreme pressure and are either dealing with this inwardly or, as we have seen recently, feel forced into a position to make public the depth of the challenges they face.
The underinvestment in general practice is undeniably a contributing factor, but most tellingly now is that the decades of underinvestment in operational management and leadership training is finally coming home to roost. With the increasing scale of PCN's and all that entails, the challenge is ever greater. The consequences and prospect of failure simply add to the burden on General Practice.
It is little wonder that there is now a backlash with the misplaced blame being heaped on online consultations. Any competent manager will tell you that making the leap to a multi-channel access model is not a quick and easy process, despite what some software providers may have you believe. To do it properly takes a great deal of time and effort, and cannot be treated as a "tick box" exercise. Doing so leads to the issues so publicly exposed in recent weeks.
We must know, and respond, to the true demand for healthcare
There are however solutions to all these challenges. They don't necessarily need more money, but they do need time, headspace, strong leadership, a positive outlook and a willingness to front up to the elephant.
You must know your true demand, and once that is established, build your team using the resources available. The knowledge and insight gained using digital tools supplement and enhance your understanding of your patient current and future needs.
Just like the supermarket analogy, all patients need to be considered and an inequity of access to any group avoided, access will take many and varied forms shaped around your patients. It's not easy, but we have proved it is possible. And only if you are willing to make the unknown a known.
Mr Martin Eades, Managing Partner
Priory Medical Group, York
Klinik''s Total Triage and patient flow management software directs patients safely and efficiently to the right point of care. This is helping PCNs, GP groups and GPs to cope with the increasing demand, with the same resource in a less stressful way.
Contact us to arrange a demo of how your practice could benefit from Klinik's solution.