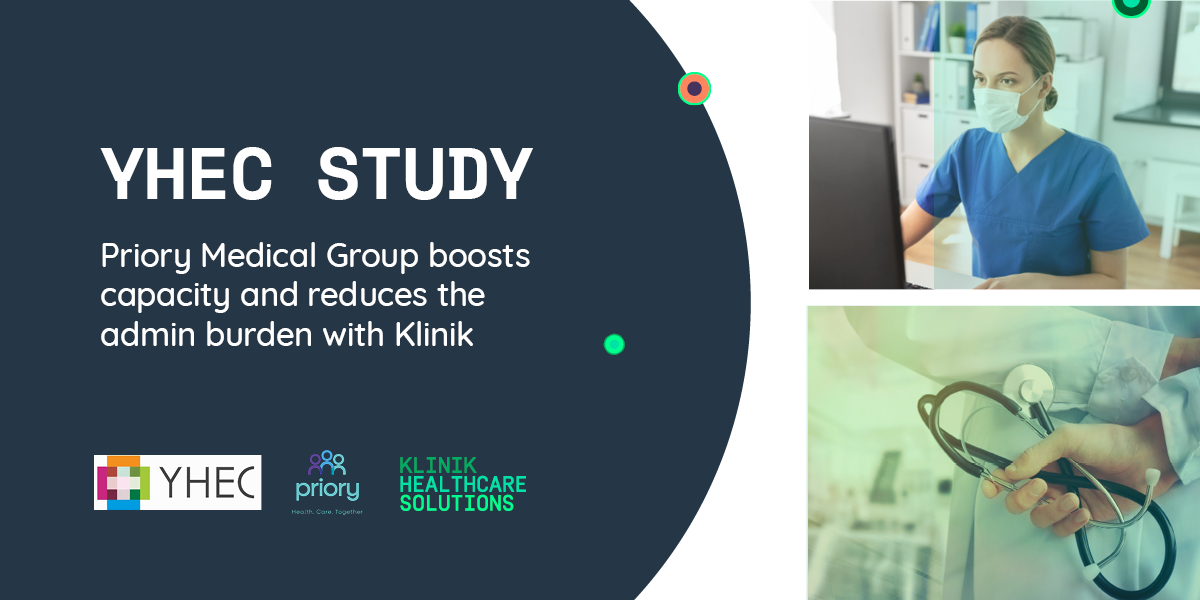 Economic analysis of a new model of primary care has shown that online triage technology has helped ease the burden on under-pressure GPs and made capacity releasing savings equivalent to more than £300,000 in 12 months.
Researchers from the York Health Economics Consortium (YHEC) looked at how the prioryCARE model, developed by York's Priory Medical Group (PMG) to help it manage patient demand, performed with and without Klinik's AI-driven triage system in two 12 month periods.
You can dowload the YHEC case study pdf here >>
YHEC found that Klinik helped to save huge amounts of time and money for PMG. Estimated capacity releasing savings made available for reinvestment were worth an equivalent of £143,000 by shifting GP appointments to pharmacists, £104,000 by cutting the use of NHS 111, and £82,000 by reducing the tasks required of clinicians and reception staff.
The study compared the performance of the prioryCARE model for the year before and after the system was introduced. It found that many patient enquiries could be dealt with by pharmacists rather than GPs. As a result, the number of consultations offered by a pharmacist grew by 256%; from 151 consultations per 10,000 contacts without Klinik, to 539 with the system in place.
More than eight out of 10 practice staff said that patient queries were better at being directed to the right place quickly with Klinik, which can support enquiries that come in over the phone, online and face-to-face. More patients turned up for their appointment with Klinik in use. The rate of Did Not Attends - which costs GP surgeries over £200m a year - fell by 6%.
By helping to provide care that better answered their needs, fewer patients needed to use NHS111. The PCN's percentage of unused NHS111 slots grew from 49.4% to 57.4%. Staff were also put under less pressure; the number of tasks required of clinicians and reception staff fell by 20%.
PrioryCARE is an innovative 'total triage' healthcare model designed by PMG, a primary care network that serves more than 58,000 patients across nine sites in York. The PCN developed the model to actively manage demand and maximise staff capacity by ensuring patients get the right care for their needs.
The group has been enhancing the model with Klinik's AI-driven triage and patient flow management system, which is used by hundreds of health centres across the UK and Europe to improve access to care and to support more effective demand management.
Appointment capacity increased. With the system in place, and alongside further organisational improvements, researchers found that Priory could offer 258,627 appointments with Klink versus 177,883 without - an increase of 45%. This was without the need for additional clinical resources.
Consultation slots were used more efficiently too. Without Klinik, pharmacists filled 88% of their consultation slots. With Klinik, this grew to 99%. Costs per pharmacist consultation fell from £10.28 to £9.10. Nurse consultation use went from 89% to 96%, and cost per nursing consultation fell from £10.30 to £9.53. Staff noted that there was better utilisation of GP sessions as well.
"With Klinik in place, we have been able to turbocharge our prioryCARE model and deliver holistic, patient-centred care that better meets patient demand," said Priory Medical Group managing partner Martin Eades. "People are receiving quicker responses, we are selecting more appropriate clinicians for appointments, and we are cutting the time spent organising care for everyone."
Jo Hanlon, YHEC Project Director noted: "The modest costs of implementing Klinik are balanced with the ability of the system to improve the efficiency of practice operations, such as dealing with patient contacts, managing workflows and allocating resources within the practice."
Ben Wood, Klinik UK's managing director, welcomed the results of the study. "GPs are under immense pressure to boost capacity and cut costs. By working together with the innovative Priory Medical Group, we have been able to show how Klinik can support a new model of patient-centred care that is both efficient and effective for everyone involved."
Klinik is now planning to work with its customers to apply the learning from the YHEC study to see if they too can deliver similar benefits as witnessed at Priory Medical Group.
About Klinik
Klinik Healthcare Solutions delivers AI-supported healthtech solutions for intelligent patient flow management for primary care providers. Klinik's user-friendly interface captures high quality patient histories via patients or reception teams. Clinically-proven algorithms identify the primary health issue, recognise its urgency and provide differential diagnoses Data dashboards break down requests by condition and time of day, whilst customisable workflows enable triage centres to redirect patients to relevant resources across a more intelligent healthcare network. More than 550 healthcare centres across Europe, including over 275 in the UK, use Klinik to improve access and manage demand for primary care. More about Klinik >>
About Priory Medical Group
Priory Medical Group PCN provides a broad range of NHS and private clinical services covering the
whole of the City of York and the surrounding area, with 9 locations around the city serving more
than 58,000 patients. More about Priory >>
About YHEC
York Health Economics Consortium is a health economics consulting company owned by the University of York. It provides a range of services, including economic modelling, literature searching, systematic reviews, network meta-analyses, patient-reported outcomes, service review and applied research and training to the NHS and the pharmaceutical and health care industries. YHEC also carries out work for a range of clients outside the health sector, including Local Authorities and the voluntary sector. More about YHEC >>