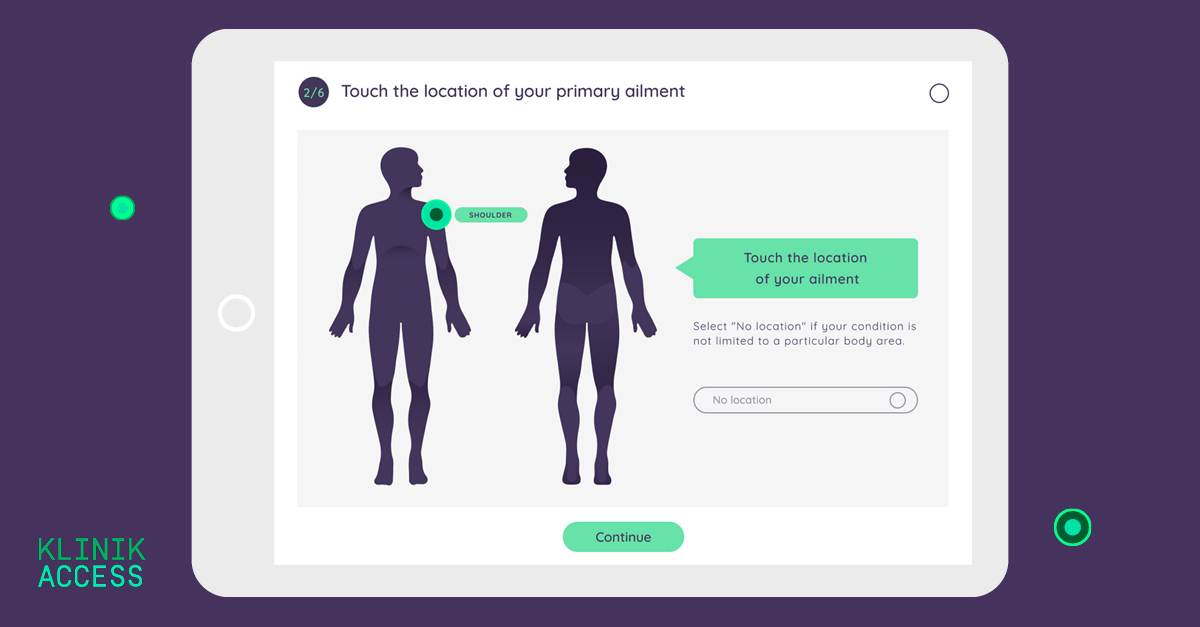 See how Klinik can help healthcare leaders achieve the aims of the Fuller Stocktake of primary care by enhancing patient access, supporting care from multidisciplinary teams, and making the most of data and AI to measure and manage demand.
The Fuller Stocktake sets out how primary care can be an integral part of the new structures emerging within the NHS in England.
And just as we showed with our analysis of recent contract developments, Klinik is able to support many of the report's recommendations.
Boosting patient access to urgent care with AI triage
For example, the Next Steps for Integrating Primary Care report calls for Integrated Care Systems (ICSs) to develop a single system-wide approach to managing integrated urgent care to guarantee same-day care.
This is where our AI-infused triage system is helping practices such as Carn to Coast Health Centres. Klinik takes information provided by the patient online or over the phone, and provides an immediate assessment of the urgency of the enquiry to a triaging GP.
Then a dedicated member of the team can book an urgent appointment if needed so that patients get a timely response from the right healthcare professional.
"Our approach works well," says Carn to Coast's Wendy George, who is also strategic manager for the local Primary Care Network. "The GP has the skills and experience to be able to assign the right case to the right professional quickly and efficiently. The duty admin support team member also loves being able to support the clinician in this way."
Creating integrated neighbourhood teams and intelligent healthcare networks
GPs are increasingly acting as the digital front door to healthcare. This will only prove sustainable if patients are directed to the right point of care from the range of the neighbourhood providers envisaged by Fuller.
Klinik enables practices and PCNs to allocate patient enquiries to local resources that stretch beyond the practice team.
GPs at Haxby Group in Yorkshire, for example, use the information provided by patients through Klinik to direct them to alternative providers, such as talking therapies and community pharmacies.
This approach lays the foundation for the neighbourhood teams described by Fuller. Klinik creates an intelligent healthcare network; one that helps direct a patient to the right member of a connected network of care providers quickly and efficiently and based on clinical need.
Data data data
As Fuller says, it has always been true that if you give clinicians the data they will respond. Data is vital to the future vision of integrated primary care.
That's why Klinik customers are heading in the report's recommended direction of travel, as well as using AI to reduce the admin burden on staff.
PCNs and groups of practices are using Klinik to access real-time demand and activity data. This means they are able to identify gaps in services and take action to redistribute resources and plan the workforce accordingly.
This is why Klinik data has been hailed as the silver bullet required to inform better workforce planning for primary care.
The AI that sits behind Klinik also helps staff manage demand. As well as helping to indicate urgency and priority, Klinik recognises more than a thousand possible symptoms and conditions. It then uses AI approaches to suggest possible diagnoses and courses of action. Staff can use this to be more confident in making the right decisions, which saves time and helps practices manage demand.
As Nicky Turner, GP of The Hall Practice in Buckinghamshire, says: "It was the AI in Klinik that's really helped. We have a better idea of what needs sorting on the day, what's routine, and what can be safely left later in the week."
What this could mean for funding, continuity of care and costs
Klinik provides many other ways to help achieve the aims of the Fuller Stocktake.
For example, funding reform is advised; some argue that it does not accurately reflect local levels of need. With the demand data outlined above, system planners can be even better informed about the health needs of a local population.
Fuller also highlights the importance of continuity of care for those people where it is most relevant. By enabling improvements to urgent care workflow and support for integrated neighbourhood teams, Klinik helps release the capacity for team-based continuity of care.
As Joseph Banns, GP of Park Lane Surgery said: "Appointment demand before Klink was at around 96% of total capacity. With Klinik, it is around 74%."
Finally, the cost of care is a huge consideration for the NHS. Research by Aalto University has shown that the efficiencies brought about by Klinik can reduce the costs of care by 14%.
Klinik could bring millions in savings to integrated care systems.
Act now - see how Klinik can help deliver more integrated care
Klinik has been developed by GPs from Finland, where neighbourhood-based integrated care is the norm. What Fuller outlines for English general practice is very similar to Finland. That's why it fits the model so well.
Get in touch to see how it can help you take rapid steps on the path towards more integrated primary care.