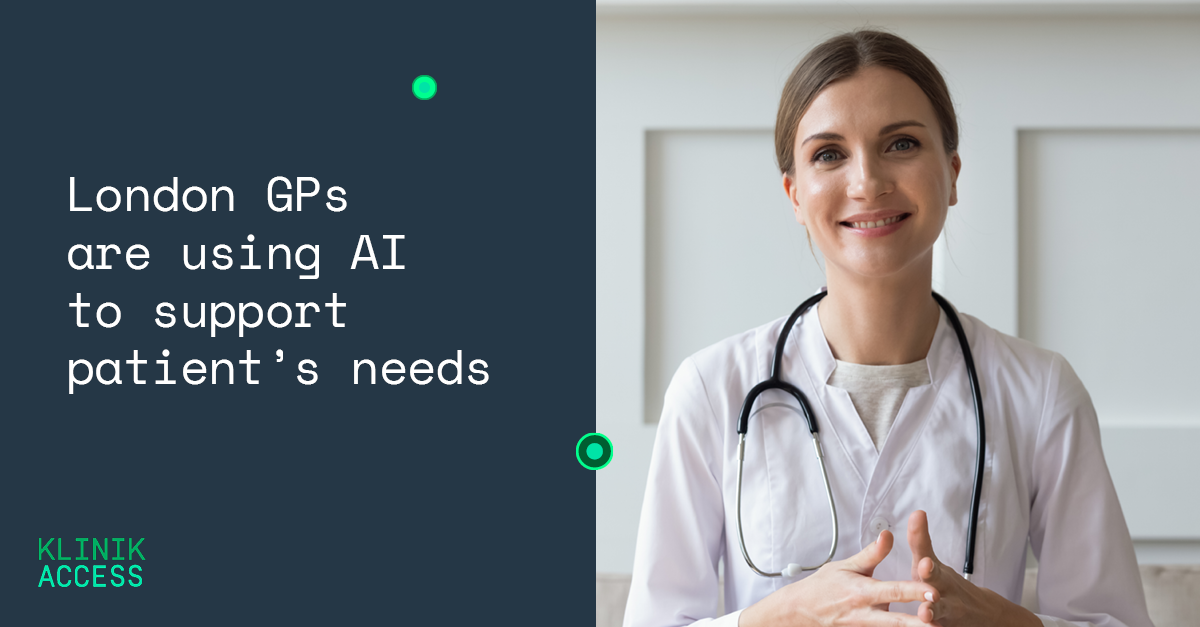 July 2022: Almost two dozen GP surgeries across North East London are using AI-driven technology to help ease the pressure on GPs and answer the post-pandemic needs of patients, thanks to the efforts of local healthcare commissioners.
22 practices from North East London have signed up to use the online consultation system from Klinik, which is one of three such providers funded by the local clinical commissioning group (CCG) for use by local surgeries.
Klinik makes it easy for patients to give their local surgery the information they need via the phone, online, or in person. This information is then analysed using artificial intelligence to suggest how each enquiry could be answered.
Doctors and other practice staff can then direct patients to the right member of the practice team, which could be a pharmacist, physiotherapist or mental health professional. Staff from external organisations, such as community health providers, can also be used.
This helps to ease the pressure on GPs and gives patients a fairer and faster way of getting through to the right professional.
"Patient demand is at an all-time high, and we saw that GPs needed a range of digital solutions to help them cope," said East London GP Laura Scott, who is Clinical Sponsor for Remote Consultations and Flexible Working in North East London CCG.
"Klinik is a system that can give GP surgeries a tool that helps them direct patients to the right care for their needs. The purpose of the AI technology enables patients to access the skills of the right professional in the practice and the wider healthcare network, which can help release capacity to meet growing patient demand."
The online triage and patient flow management technology is rated as good or excellent by close to 90% of patients and professionals, and is used by hundreds of healthcare centres across the UK and Europe to help GPs manage appointments and consultations. It can also provide data about patient enquiries that can be used to help measure and manage demand at a local and regional level.
"GPs and patients have embraced technology throughout the pandemic," says Klinik UK managing director Ben Wood. "Now, thanks to the work of North East London CCG, GPs will be able to manage thousands more patient contacts and provide access to new skill sets for their local populations.
"The team at Klinik is looking forward to working with patients and surgeries across North East London on shaping Klinik to meet their precise needs."
Editor's notes
Media contact: Rob Benson, Elemental on behalf of Klinik Healthcare Solutions UK
Tel: 07815 098560
Email: robert.b@weareelemental.uk
About Klinik
Klinik Healthcare Solutions is a healthcare technology company delivering AI supported solutions for intelligent patient flow management for primary care providers. Klinik's patient flow management solution has a very user friendly interface with customisable workflows linked to relevant resources that helps to split the work between relevant resources.
Its clinically-proven algorithms can identify the primary health issue, recognise its urgency and provide differential diagnoses. The system's high quality patient history taking allows for an efficient decision making process whether to make an appointment or redirect a patient to the right point of care.
There are 550 healthcare centres across Europe, including more than 250 in the UK, using Klinik to provide improved access to care and more effective processes to professionals. Klinik technology is helping redefine and reform how the patient flow is managed.